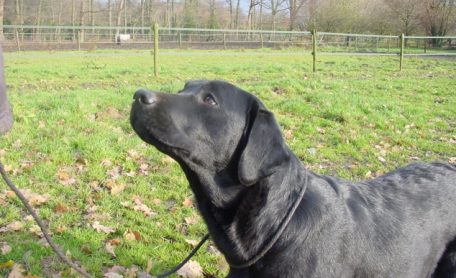 Stamboom naam: ZIPPITY DOO DAH v/d Peppelenbosch
Roepnaam: Scruffy
Scruffy was never really in the planning for our breeding programme, she was the runt of the litter and we didn't dare to re-house her at the time. She was an under developed teenager and became the family pet.
However miracles do happen, even to the seasoned breeders and our ugly duckling has turned into a swan. She is a very big dog at 12 months old and has that something 'special' that is irreplaceable and that is the expression of her grandmother Lexy. I call it a 'look to die for'.
Showresultaten
NLV Clubmatch Bennekom - 17 juni 2012
Showresultaat: Excellent
Keurmeester: Mrs L. Devaux, Belgium
18 maanden zwart flink teefje. Goed hoofd en body, goede hoekingen, voorvoeten draaien a beetje uit, goed vacht. Staart goed gedragen, zwak in pols.
Stamboom